A FAMILY-RUN DERBYSHIRE BUSINESS since 1992
KB Sandblasting Services are specialists in abrasive surface cleaning and preparation for a wide range of purposes.
First established in 1992, the business has passed from father to son and is now run by Kurt Burton, who himself has more than 10 years of experience in the sandblasting trade.
---
SANDBLASTING IN DERBYSHIRE, NOTTINGHAMSHIRE AND BEYOND
We work mainly in and around Derby, Nottingham and Mansfield as well as the wider Derbyshire and Nottinghamshire areas. We are also more than happy to travel further afield for projects too.
Depending on the project, we can either bring our services to you on-site or we can work on vehicles and other transportable objects at our base in Heanor, near Derby.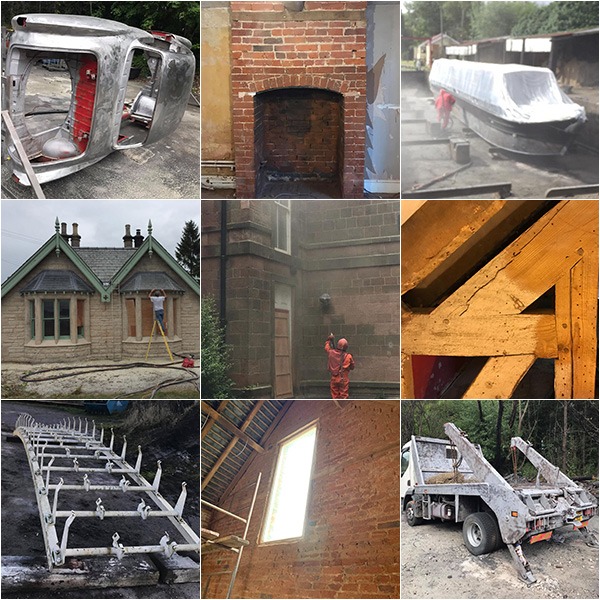 SANDBLASTING FOR ALL PROJECTS AND PURPOSES
Sandblasting is an efficient and effective way of removing dirt, paint, rust and other unwanted coverings from surfaces such as brick, stone, concrete, metal and wood. Using this abrasive cleaning technique, surfaces can be brought back to like-new and prepared ready for repainting or coating as needed.
Our skills transform the interiors and exteriors of buildings, either in whole or in part. We can also clean up specific details such as window sills and fireplaces. We strip vehicles and other metalwork back to its original bare state, resulting in it being ready for a fresh coat of paint. We revive wooden timbers, trusses and frames plus much much more.
Take a look at or photo gallery some of the examples of projects we've previously worked on. You can also see more of our latest work on our Facebook and Instagram pages.
We are available for both domestic and commercial/industrial sandblasting projects and offer both dry blasting and wet blasting services.
As specialists in our field, we will advise on the best treatment for your requirements, ensuring that the processes and types of abrasive used are tailored to best suit each individual project.
No job is considered too big or too small so contact us today for a free no-obligation quote.
DOMESTIC WORK
Clean and restore interior or exterior brickwork, floors, timbers and more in residential projects. Our mobile sandblasting service comes right to your door.
COMMERCIAL WORK
From large vehicles and plant equipment to buildings, walkways, metalwork and more, we work for a wide range of commercial and industrial clients.
EXAMPLE Projects
See a range of the sandblasting work that we've delivered and the differences we've made for domestic, commercial and industrial clients in our Project Gallery
gET A QUOTE
Get in touch for a free no-obligation quote for your work
or complete the form below and we'll get back to you as soon as possible